This afternoon, Nassau County Democrats held a press conference in Mineola to announce the party voter registration lead for the first time in... well... forever.
The former republican strong-hold of Nassau County is no more.
I'll have numbers in following posts and more news on the Town of Hempstead registration numbers.
In attendance today were County Chairman Jay Jacobs, State Chairwoman June O'Neil, Senator Craig Johnson, Legislators Dave Denenberg, Wayne Wink, and Judi Bosworth Assemblyman Chuck Lavine, Assemblywoman Michele Schimel, Town of North Hempstead Supervisor John Kaimen, Town of Hempstead Councilwoman Dorothy Goosby and Senate candidates Kristen McElroy and Matt Meng.
The Press Release follows
.
Click on the photos below for full-size versions...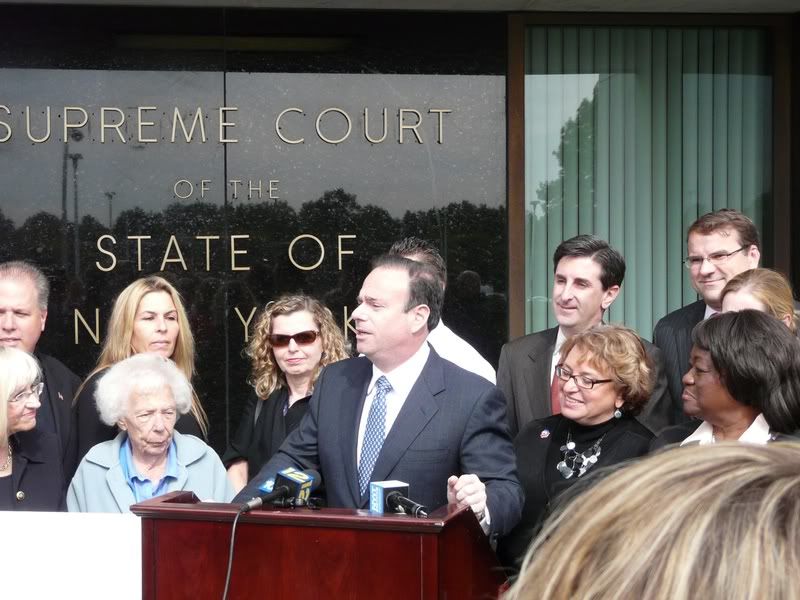 Chairman Jacobs makes announcement.
---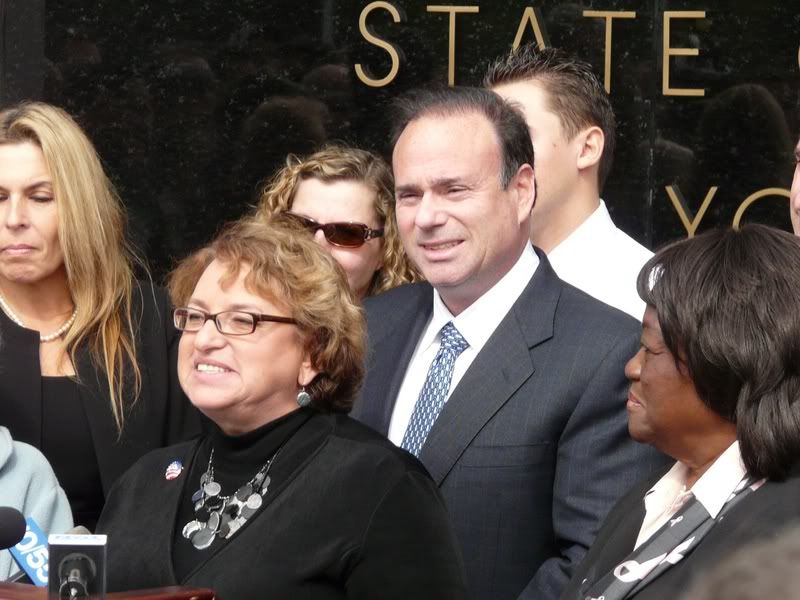 State Chairwoman June O'Neil speaks.
---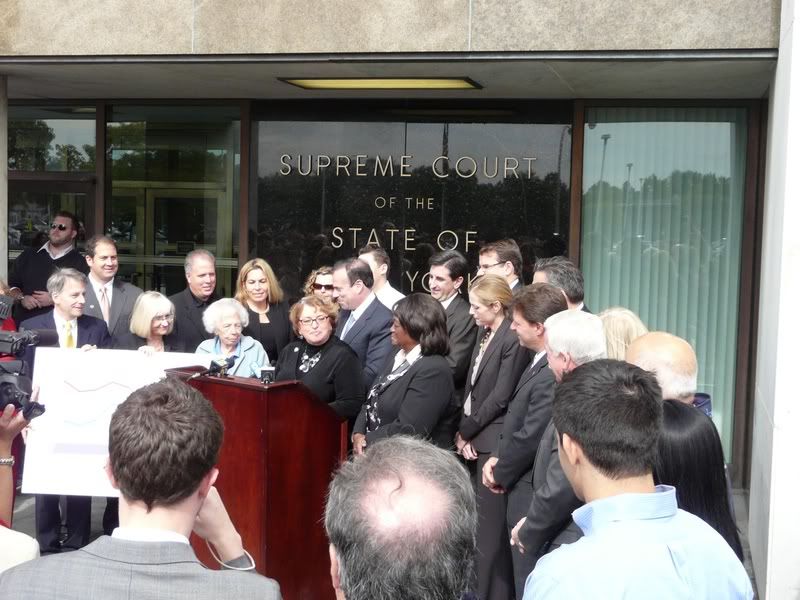 ---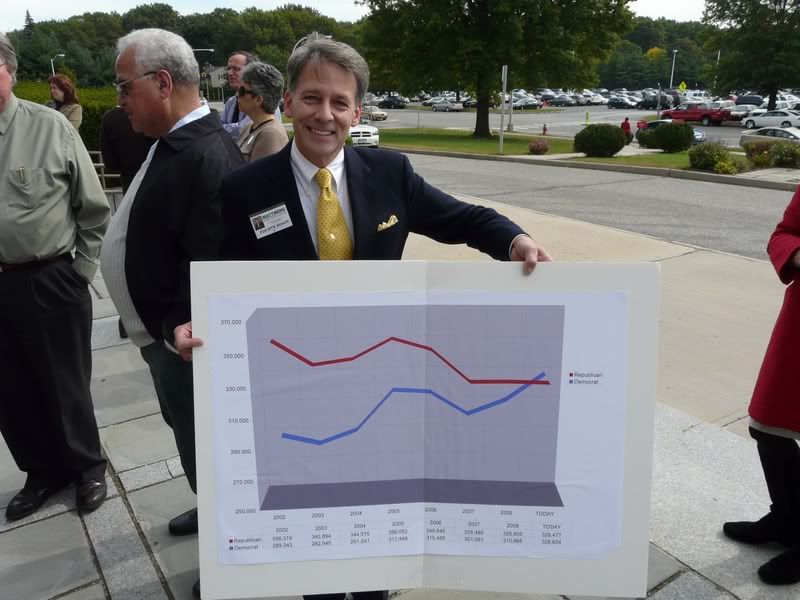 State Senate candidate
Matthew Meng
holding voter registration chart.
---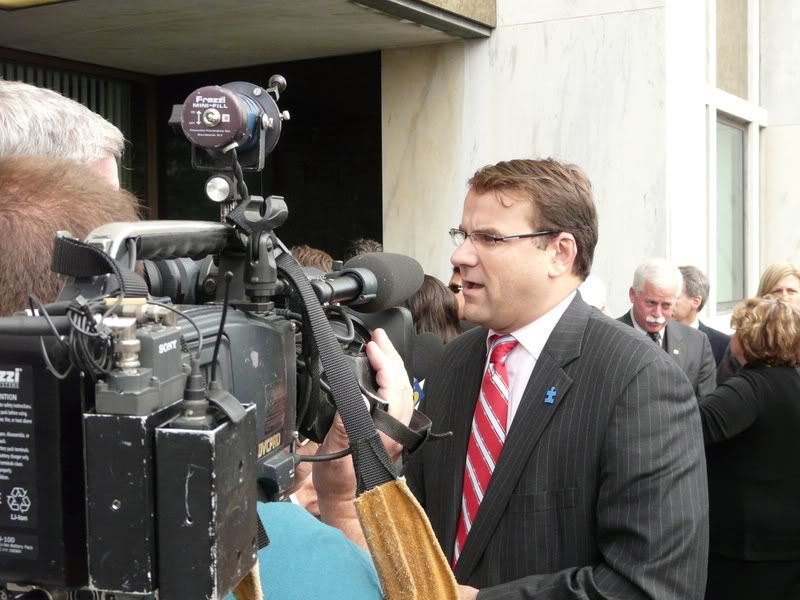 State Senator Craig Johnson speaking to News12.
"Democratic Chairman Jay Jacobs announced today that a historic shift in voter registration has taken place; Nassau is now a Democratic county.
"Today marks a watershed event in the national political landscape. Nassau County, once the home of the most formidable Republican Machines in the country is now and forever more a Democratic County," said Chairman Jay Jacobs. "Now that's a change you can believe in!"
The Republican Machine has dominated Nassau County for more than the last 100 years.
The Nassau Republican Machine was long recognized as the most successful, powerful Republican organization in the country. President Ronald Reagan once said that "when a Republican dies and goes to Heaven it looks a lot like Nassau County." Not any more.
Since Tom Suozzi was elected County Executive in 2001, the Republican enrollment advantage of 79,000 voters has steadily declined with the historic shift in enrollment favoring Democrats occurring at just after 11 AM yesterday, October 7th.
"The difference between the Republican Machine and the Democrats is very clear to the voters who have been favoring the Democrats in record numbers. Nassau Republicans have always been about doling out jobs and favors to keep themselves in power, while Nassau Democrats have been about running an efficient, effective government and keeping taxes as low as possible," said Jacobs.
"Under the strong leadership of Nassau County Democratic Chair Jay Jacobs and Nassau County Executive Tom Suozzi, we can today proudly say that Nassau County – one of the most Republican counties in our state – is 'Blue'," said June O'Neill, New York State Democratic Committee Chair. "The shift from 'Red' to 'Blue' in Nassau County is reflective of trends we are seeing across our great state. New Yorkers have realized that the Democratic Party can offer something the Republicans cannot – strong leadership, real change and results we need."