In Newsday's endorsement of Democrat Keith Scalia for State Assembly, Newsday wrote about republican Saladino

"Saladino has spent just over four years in Albany but has done little other than become overbearing and dismissive."


That is why I'm guessing Saladino felt comfortable enough to run ads in local papers this week claiming to have the endorsement of Newsday.
He is arrogant and assumed he would get the endorsement. Newsday saw through his empty-suit rhetoric and that Saladino

"... says all the right things about reducing the property tax burden, and he seems to support every proposal that claims to do that, realistic or not."

and "
Saladino has already become a creature of its moribund thinking and ways."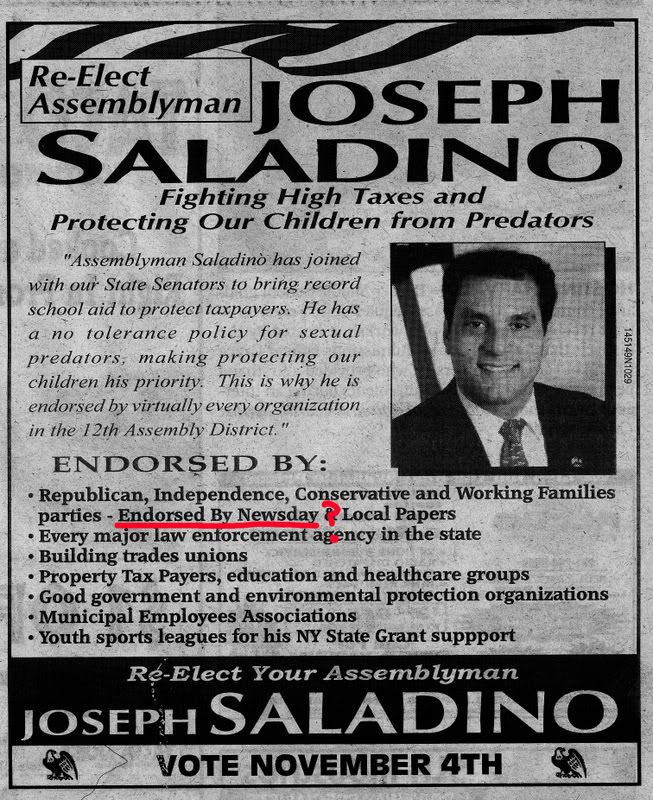 One other troubling thing, Saladino is claiming that

"Youth sports leagues"

endorse him because he gives them

"NY State Grant Support."
So there is a quid pro quo with Saladino handing out taxpayer money to non-profit leagues and they endorse him?
More on that other parts of the ad later.