Nassau Comptroller Howard Weitzman through his recent investigations has found corruption in special taxing districts all around Nassau. From Water to Fire to Sanitation, shenanigans in spending has been found.
Here is the most blatant use of public funds I have seen in a long time. The problem is that these districts have been flying under the radar for so long that they think they can get away with anything. Usually the elections are uncontested so there is no opponent to make some noise about what is going on. In the South Farmingdale Water District, Commissioner Kurt Ludwig is running for re-election after finishing the unexpired term of a former commissioner.
Ludwig who is also an executive member of the North Massapequa Republican Club is the coverboy for the new water district newsletter that has arrived a week before the election.
The cover story reads like a campaign mailing and it might as well be. The South Farmingdale Water District is using YOUR tax dollars in a campaign. Check out the newsletter - click on the image to see a larger version.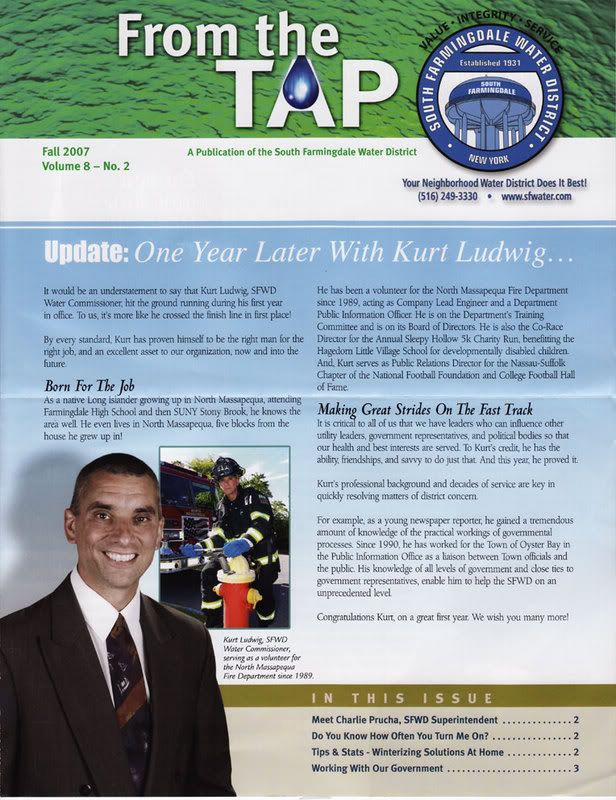 If this doesn't look like a campaign mailing, I don't know what does.
The South Farmingdale Water Commissioners should be ashamed of themselves... and quite frankly need to resign for approving this.
Maybe they thought they could get away with it.
Maybe they got away with it in the past.
This time they are not getting away with it.
Comptroller Weitzman needs to open an investigation into the South Farmingdale Water District.