Like a jilted prom-date left to stand and wait, corsage in hand, date never to arrive, Schmitt through Ed Ward wears his heart on his sleeve in
today's Newsday
"Neither one of them had the decency to come into his office, after they had been running into the office all week... Neither of them had the decency to call."
Yes, Peter misses Roger and Lisanne. They were such a fixture in his office as they conspired to unseat Presiding Officer Judy Jacobs. Now they are back in the fold and Peter feels betrayed.
Gee, a betrayer feeling betrayed by other known betrayers. Try wrapping your head around that one.
Schmitt expected Corbin to be the 10th vote last week to put him in the Presiding Officer seat. Ward says "It was always understood that Corbin would swing the vote,"
Yeah, Corbin would really want to be the #2 to Peter Schmitt. The whole gambit was for Corbin to be PO. That didn't work out as he was abandoned on the first vote by Schmitt and his rubber-stamp caucus.
Did Schmitt really believe that Corbin would risk losing all party support and have a long line of people ready to primary him?
The Love Affair has ended and it's back to work for the legislators.
For Schmitt, he leaves a little part of his heart behind.......


Cue music and photo montage...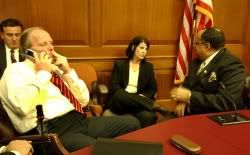 Mem'ries, Like the corners of my mind
Misty water-colored memories
Of the way we were
Scattered pictures,Of the smiles we left behind
Smiles we gave to one another
For the way we were
Can it be that it was all so simple then?
Or has time re-written every line?
If we had the chance to do it all again
Tell me, would we? could we?
Mem'ries, may be beautiful and yet
What's too painful to remember
We simply choose to forget
So it's the laughterWe will remember
Whenever we remember...
The way we were...
The way we were...