There has been a movement gaining traction from the County Executive, elected officials and regular citizens to consolidate the hundreds of special taxing districts in Nassau County. By consolidating these districts, tax payers would save money.
Supervisor John Venditto has made the leap and consolidated all the Special Districts in the Town of Oyster Bay. In the recent "Talk of the Town" propaganda mailing, Venditto shifts the Special Districts to the Nassau County slice of the tax dollar pie.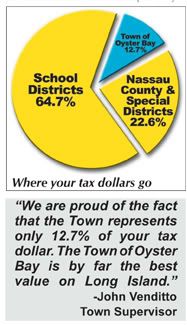 The FACT is that John Venditto is lying. Nassau County has NOTHING to do with the Special Districts. Venditto is just trying to shrink the percentage of tax dollars the Town collects and increase th percentage the County collect.
The REAL percentage for Nassau County is about

17.5%

,

NOT the 22.6% Venditto claims

. The County portion of your taxes has been the lowest in years. It's Venditto who just raised your Town taxes by 11%.
The Special Districts are under the control of the Town of Oyster Bay. The Town sets the tax rates. The Town appoints board members. NOT the County.
The REAL FACT is that the Town of Oyster Bay slice of the tax pie is

17.8%

NOT the 12.6% Venditto claims.
Venditto spent taxpayer money to send a mailing to LIE to those very same taxpayers.
What a disgrace
.