I went to the Massapequa Tea Bag Party this afternoon. The Tea baggers were lined up on Sunrise Highway (some on the south side) with their signs causing traffic to slow to a crawl.
I wade into the crowd of about 150-200 to take some pictures and see what was up. The snippets of conversations I heard made my ears bleed. They might not be indicative of the whole crowd but what I heard was a lack of understanding of the issues. Then I heard "... FOX News..." and "... 770AM..." and that pretty much explained the lack of knowledge.

Here are a few pictures of the crowd.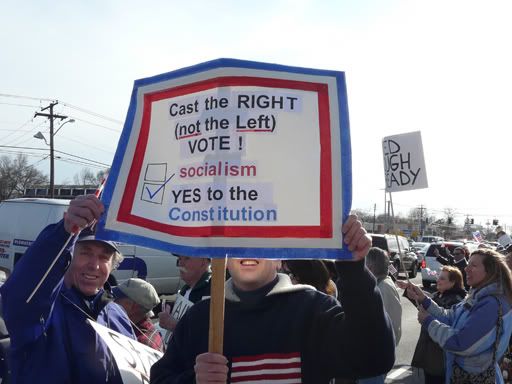 These two seem to have forgotten that the economic mess we are in was caused by 8 years of George W. Bush and 6 of those years with a republican congress. Actually, the whole crowd seems to have developed selective amnesia, blocking Jan. 2001 to Jan. 2009.
I'd like to point out to these two mouth breathers the illegal wiretaps that were unconstitutional. Who did that again, guys?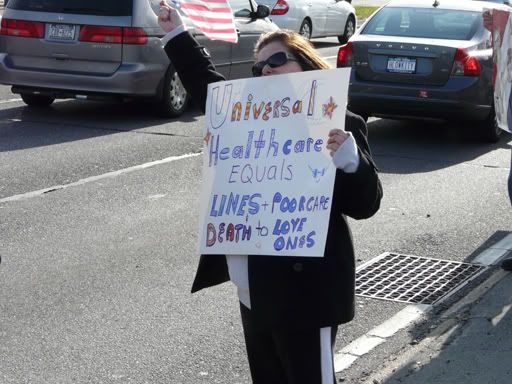 Here is someone who believes that access to healthcare for all Americans will cause death. Universal Healthcare means access. It means healthier citizens. It means insurance companies can't deny treatment as they do every single day.
Universal Healthcare works fine elsewhere. Why not here?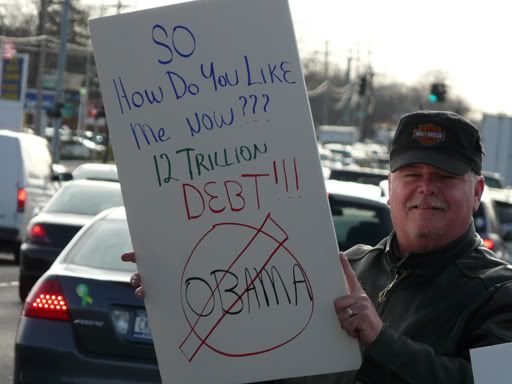 I wonder if this fine fellow voted for George W. Bush. I bet he did.
Now I wonder if he was just as upset and took to the street when the debt increased 71% under Bush. That is a $10trillion debt President Obama INHERITED.
Does it matter that Bush inherited an annual federal budget surplus of $230 billion from Clinton and in just three short years turned it into a $500+ billion deficit? This negative turnaround of three-quarters of a trillion dollars.

More pictures later....