Darn-it! We had so many other things to go over today but our dear friends at the Nassau County Young Republicans are keeping up their streak of deceit in our newspapers.
Alex P. Vassallo

, Executive Vice President of the group wrote the first letter to Newsday which we dissected a week ago. Then came the letter from

Micheal R. Kaplan

, Nassau YR's First Vice President to Newsday which we took care of a couple of days ago. Now comes ANOTHER letter by Vassallo this time in this weeks Long Island Press. The letter is a carbon copy of what he wrote to Newsday with an extra paragraph or so added. We won't go through the entire letter again and point out the obvious failures of Vassallo's arguments but we will take on the extra bonus footage he added for this new addition.
First off, it's not really the content that bothers us. Of course they are both so factually wrong, it's just plain funny but that's not it. It's the fact that

Vassallo

and

Kaplan

both refuse to identify themselves as being elected officers in the Republican party and committee-men in thier districts. Newspapers prefer that when writing, the writer identify their affiliations. The letter immediately following

Vassallo

's letter in the Long Island Press is written by a person who identified himself as being "a 2004 Democratic candidate for New York State Senate, District 3." The letter was not a political one but the writer identified his affiliation.

Vassallo

should have told both newspapers who he was. Not to do this is deceptive. He isn't an average citizen writing a letter to the editor, he is a party officer who has an agenda. Let's hope both papers keep an eye out for deceptions like this in the future.
Below are the two letters side-by-side. The left is from Newsday and the right is from Long Island Press. The new stuff is hi-lited in red. Following this We dissect

Vassallo'

s new comments. His in red, ours in black.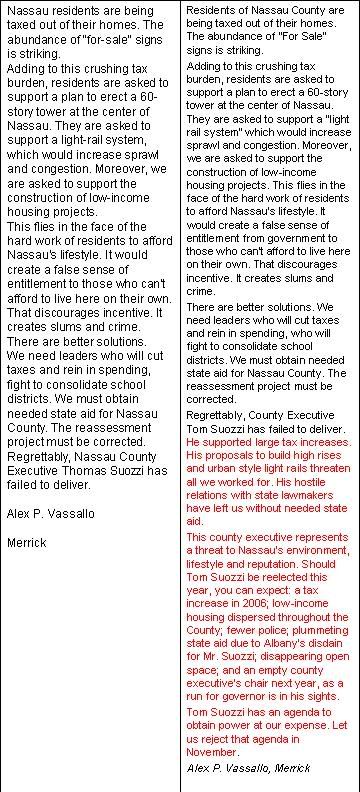 He supported large tax increases.
There was a 19.4% tax increase his first year and hasn't been one since. Why was there a tax increase? Because Vassallo's party almost bankrupted the county. There was no more money. The county's Bond rating was almost JUNK status. Nassau was chosen as "The Worst Run County in the Country" by the Maxwell School of Public Policy at Syracuse University. The state had to come to the rescue of Gullotta and the republicans. After NIFA was formed, the county needed to perform well or NIFA would take over the county finances. THAT is what the Republicans left Suozzi to deal with.
Since then we have at six bond rating increases and NIFA has looked favorably on the Suozzi budgets.
FYI the COUNTY portion of a homeowners tax bill is only about 20%. The increase for the county was an average of $150 per year per household.
"His proposals to build high rises and urban style light rails threaten all we worked for."
Where are the "high rise" proposals? No where. The only "high-rise" is Wang's plane for the rebuilding of the Nassau Coliseum area. And the light rail system is a limited one which copies what many other suburban areas are doing.
"His hostile relations with state lawmakers have left us without needed state aid."
No state aid? Take that up with the State Senators and Assemby-persons whose responsibility is to represent Nassau in Albany. Is Vassallo saying they are not doing thier jobs? No, actually they are helping get funds for the County. The 2005-2006 state budget includes funds for an Empire Zone. Suozzi worked to get this and it is the first one in Nassau County. There is also a plan to get help for Museum Row at Mitchel Field.

"This county executive represents a threat to Nassau's environment,lifestyle and reputation."
With SIX bond rating increases, NIFA approval of county finances and more people looking to live in Nassau County, Suozzi isn't threatening anything.
"Should Tom Suozzi be reelected this year, you can expect: a tax increase in 2006;"
Doesn't seem to be one in the works. More scare tactices from Vassallo.
"low-income housing dispersed throughout the County;"
Please see Sen. Dean Skelos (R-Rockville Centre) and Supervisor John Venditto of Republican of Oyster Bay who both support affordable housing plans.
"fewer police;"
Actually the police academy has been graduating new officers and are filled to capacity. Why would Vassallo lie?
"plummeting state aid due to Albany's disdain for Mr. Suozzi;"
Doesn't seem to be the case at all. Since the "Fix Albany" campaign began the word "reform" has been found of the lips of Albany legislators.
"disappearing open space;"
Actually under Suozzi and the Democrats there has been an increased effort to save open space. For development in the County Suozzi has said "We must focus on recycling formerly productive or underproductive properties instead of assaulting our last acres of open space,"
The County Legislature passed an Open Space Fund that would set aside 5% of funds from the sale of County-owned real estate property to be used for the acquisition, rehabilitation and maintenance of open space.
Also, Vassallo should know that it is the LOCAL TOWN zoning boards that decide what gets built and where. If Vassallo has a problem, he should take it up with Supervisor Kate Murray and the republican controlled Town of Hempstead where he lives.
"and an empty county executive's chair next year, as a run for governor is in his sights.
Tom Suozzi has an agenda to obtain power at our expense. Let us reject that agenda in November."
More hyperbole from a repulican hack supporting a candidate (Peterson) who quit his job as Town of Hempstead Supervisor two months after getting re-elected to take a higher paying job at OTB.

Alex P. Vassallo, Merrick
who forgot to mention he is the Executive VP of the Nassau Young Republicans, currently works for the Town of Hempstead Receiver of Taxes, and is as a Co-Commiteeperson for the Merrick Republican Committee.
The truth shall set you free, Alex.