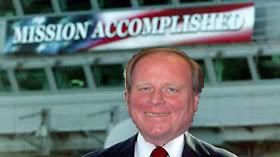 Just got a mailing from Minority Leader Schmitt called the "12th Legislative District Report." He sends out these glossy mailings at a pretty big cost to the taxpayers. On the front page he goes on about his gimmick to freeze reassessment for five years. We touched on the gimmick back in March and plan on following this post up with more.
BUT what really caught my attention was this great line "One of my proudest achievements this year has been leading all of the Nassau Republican Legislators in a charge to stop the increases due to reassessment."

Yes, he was able to "lead ALL of the Nassau Republican Legislators."
ALL of them.
Because you know the republicans in the legislature don't work well together.
So congratulations Mr. Schmitt for doing the impossible and having all the republicans vote in lock-step.
Notice any sarcasm here?