I fixed her logo for her....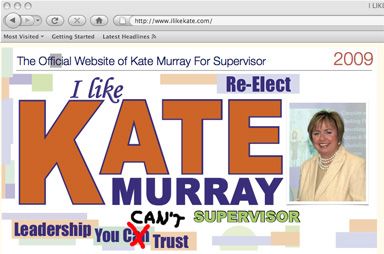 There is a whole lot wrong with her website.
Let's start where she mentions the Lighthouse Project which she is dragging her feet on.
"This past year Kate and the Town Board approved a commuter‑oriented home development in West Hempstead that offered higher development density in a location adjacent to a local development proposal for 150 acres of property surrounding the Nassau Veterans Memorial Coliseum. The proposall includes a redeveloped Coliseum, housing, retail space, office space, a hotel, and minor league baseball stadium as well as other recreation and entertainment components."
Besides adding that extra "l" to "proposal", Murray is trying to link herself to the Lighthouse Project very subtley.
Why mention the Lighthouse Project (not by name though) when she obviously opposes it?