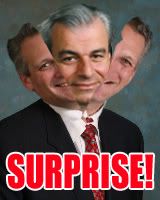 If Accidental County Executive Ed Mangano wasn't just bad on his own, now he's cribbing ideas from former County Executive Tom Gulotta... and this is just ONE example.
From
Newsday Spincycle:
"Nassau County Executive Edward Mangano's proposed $2.6 billion budget is precariously balanced on three financial legs: $61 million in labor concessions, which the unions so far have refused to concede; $60 million in new fees or increased fees, even though Presiding Officer Peter Schmitt (R-Massapequa) promised in his inaugural address that the legislature would not approve any fee increases; and an end to the county's guarantee to pay school districts' and towns' share of $100 million in property tax refunds each year because of erroneous assessments.
Although the county receives only about $17 million of the $100 million in taxes collected-- the rest went to schools, towns and special districts--Nassau must repay the full $100 million because of the guarantee.
Proposals to end the guarantee are new:
Consider this Newsday headline from Oct. 2, 2000 when a fellow Republican, County Executive Thomas Gulotta, was also trying to find ways to fill a multi-million dollar budget hole.
"GULOTTA: SCHOOLS SHOULD PAY SHARE OF REFUNDS / PLAN FACES OPPOSITION FROM DISTRICTS, ALBANY"

Gulotta's plan went nowhere."