Our esteemed state lawmaker Joe Saladino from the 12AD has gotten his very first bill passed in the Assembly.
We know what a tireless photo-op seeker.... err.. legislator he is, and it comes as no suprise that after almost 2 1/2 years in the Assembly he got a sponsered bill passed.
Assembly Bill A11171 calls for the designation of the Striped Bass as the official New York State

Salt Water

Fish.
We already have a Fresh Water Fish in the Brook Trout. It is about time that there be an aquatic equivilent in the salt waters that splash upon the shores of New York State. True representation of the gilled inhabitants has finally arrived.
Reading from the bill is completely worth it even if you don't like the web of legalize you can encounter in important legislation.


"It is the purpose of naming an official fish, bird, animal (mammal), tree and so forth, to give the state an identity, to assist with its promotional and tourism endeavors and to educate the




public as to ):he bounty of its resources, characteristics, strengths, cultures or especially a commonality or pride found within. While the State of New York prides itself on the tremendous fresh water fishing opportunities within its borders, there are plenty of species found to the south especially in the tidal portions of the Hudson River and surrounding the Long Island sound the bays and ocean shores of New York City and Long Island.




"Morone Saxatilis stripped bass grows to an average of 18 to 35 pounds as an adult with the largest of the species caught off Long Island`s east end reaching a record of some




75 pounds.




"This fish is a prized and well sought game fish contributing to the 4 billion dollars the fishing and boating industry generates annually on Long Island alone each year.

It is one of the most tasty marine species to consume

and the striper`s resiliently is clearly evident in the speediness of the species recovery and abundance following a moratorium and limit restrictions in New York which proved to be a template for success known nationally in the field of marine resource management.

There is, without a doubt, room for both an official fish and official marine fish of the State of New York

and no better species of salt water swimmers to catch and associate with New Yorkers than the strong, majestic and domestic Striped Bass."

Kudos to Assemblyman Saladino.
A NYS Legislators job is never done and it's tackling the tough issues that make them strong.

And now back to reforming the public school aid formula, right?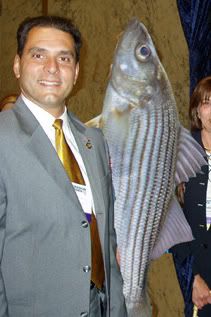 Assemblyman Joseph Saladino (R-Massapequa Park)
meets with lobbyist Ken "Big Mouth" Bass